The Incredible life of Father J K Bill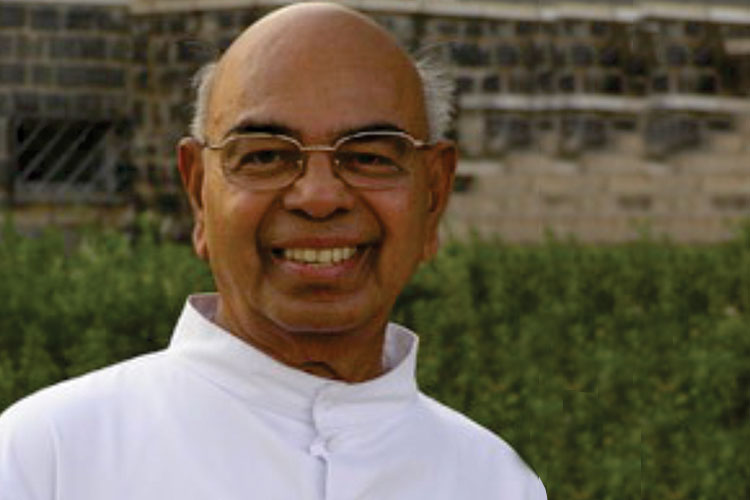 A Vincentian Monastery church in Kochi, Kerala, India. Father Joseph Kurupamparambil was preparing for the Holy Mass. As was his custom, he was praying silently in the sacristy, when suddenly he fell unconscious.
Some among the faithful, who had come to the church for the Holy Mass, took him to the hospital nearby. When finally Father Joseph returned to his senses, three days had passed. He opened his eyes, and felt a deep pain within his chest. When he tried to get up, someone warned: "No, father, please…"
It was Dr. Joseph Kurian, the head of Cardiology department in Lissie Hospital, where he had been admitted. He had been in the Cardiac Intensive Care unit for three days. The doctor revealed to him that he had two severe back to back heart attacks, which he survived narrowly.
"You have narrowly survived two heart attacks. But take good care. The third one could be fatal!"
Father Joseph saw the setting sun through his window. Life is on the brink. All dreams are fading. He realized that he is nearing his end. Born in 1928 in a village named Vaikom, he had joined the Vincentian congregation with great dreams. But, he had not served the Lord enough. One of the earlier members of the congregation, Joseph had been one of its most efficient and daring members. A post graduate, he had been in charge of the congregation's administration. He had thought that a priest's life is to be spent on administration. So, he had toiled tirelessly. Now, everything seemed crumbling down!
He had almost resigned from life, when a visitor came to him and invited him to attend a retreat exclusively conducted for priests. It was one of the first Charismatic retreats in Kerala. Father Joseph, who knew nothing of Charismatic, was skeptical at first. 'But, what can't I have a try?' he thought.
So, he was there in the retreat hall along with 163 priests and one bishop. It was altogether a refreshing experience for the priest. The final day of the retreat. It was time for the prayer of anointing. Bishop Mankuzhikkary put his hands over Father Joseph and prayed over. Suddenly, a sensation resembling an electric wave passed through the body of Father Joseph! He later said that he saw Jesus, the risen Lord in the place of the bishop. The incident changed the life of Father Joseph forever.
After the retreat, the priest was back in the hospital. When the medical check ups were done, his doctors was taken to surprise. There was no sign of heart attacks. His heart seemed perfect! Doctor could not believe. He quizzed the priest: "What medicine did you take?"
"I didn't take any medicine. Jesus touched me during the retreat!"
"Nonsense, do you think that something like a severe heart disease can be healed by prayer?"
Father Joseph replied: "For the God, who created me and my heart, it is easily possible to repair my heart when is in dysfunctional!"
The doctor, not convinced, ordered another round of medical tests. The result was the same. A perfectly healthy heart!
The doctor had no other way than to believe. He admitted, "Father, your God has cured you! Now you can lead a healthy life like anyone else."
That day Father Joseph decided to resign from all the responsibilities of an administrator and dedicate his life completely to evangelization, preaching Christ all day, all over the world. He disclosed this idea to his superior, who was skeptical.
"You are ill, Father Joseph, you need rest."
Father Joseph found a way to convince Father Superior. Thus, he climbed the Mount of Malayattoor, where St. Thomas had prayed. It was impossible for a heart patient to climb such a height. Now, superior was convinced too.
"Father Joseph, go anywhere and preach" he said.
Father Joseph left to USA, and at Duquesne University in Pittsburg, he did a course in faith healing. He began preaching in the US. One day, while he was preaching in a church in Boston, some faithful brought a paralyzed man to Father Joseph and asked him to pray over. Even though he had himself experienced the healing power of God, Father never thought God will work through him. Since he was asked, he prayed over the man. Mustering up faith, Father Joseph commanded him: "In the name of Jesus Christ, get up and walk!" To everyone surprise, the man got up and walked exactly as narrated in the Gospels!
God was beginning to work through Father Joseph. Returning to Kerala, he began the Popular Mission retreats, which triggered a new wave of faith across the state. Thousands were ignited by faith and virtue. Message of love and forgiveness transformed the most hardened sinners. Father Joseph went on preaching whole day, with no rest.
In 1992, he heard from someone who had returned from Africa that the Dark Continent is in need of God. He felt God was calling him to another mission. Before setting out for the challenging mission, he had his medical checkup once again. "Father, your heart is now stronger than earlier!" said the doctor.
There is a prologue to his African mission. A protestant lady in Tanzania, who was an aids patient, one day saw an Indian priest in her dream and praying over her. The next day, she found that she was healed. From that day onwards, she was wandering in search of the priest who touched her. Two years passed. Fr. JK Bill (Father Joseph was rechristened by the Europeans as Father J K Bill) landed in Tanzania. This woman saw the face of Fr. Bill in the posters ran to the retreat hall. When she saw the same face she had seen in her dream, now standing on the stage, she yelled and shouted, "This is the Father who healed me!"
That incident was covered by the media in Tanzania, and attracted many believers to the retreats of Fr. Bill. The priest saw this as God's way of preparing ground for his evangelization in the Dark Continent.
Africa was literally shaken by the anointing of the spirit. Thousands of people rushed to his retreats and returned transformed by faith. Kenya, Uganda, Sudan… The Spirit of God dispelled the darkness from the Dark Continent! There was lingering peace and joy!
Father Bill received invitation from Europe. He travelled tirelessly, preaching the Word of God. He preached every day, '365 days a year' as he used to say! The man who had survived two massive heart-attacks! He travelled from nations to nations, from continents to continents.
His source of power was the Holy Sacrifice of the Mass. Lifting up a crucifix, he would say: "Can you reciprocate this love – this love that died for you?"
He never gave undue thrust to healing. He had no separate healing sessions. All healing occurred during the Mass. "You turn you heart to God first. Healings will just happen" he used to say. Most of the healings occurred during the Holy Mass."That is the redemptive power of God and His mercy being manifest" he defined the healings.
After the heart attacks, he lived for another 32 years, tirelessly travelling and incessantly preaching. At the age of 80, he said: "I don't want to rest. I want to bring more people to Jesus". But, God decided that his favourite servant had enough of toil. On 13th March, 2008, Father J K Bill collapsed in Uganda, while saying his favourite healing Mass. He was rushed to hospital, but his great soul soared to heaven to see Christ whom he loved and served all his life!
Father Bill had a grand funeral with thousands of faithful attending with tearful eyes. The remains of late Rev. Fr. Joseph K. Bill was taken to the Cathedral Church, Kampala. The funeral Mass was presided over by His Grace, Most Rev. Cyprian Kizzito Lwanga, the Archbishop of Kampala, assisted by Bishop emeritus of Koima Diocese and the Bishop Christopher Kakooza, the auxiliary Bishop of Kamapala, along with a number of priests. Among the personalities who attended his funeral service were the Second deputy Prime Minister, the Finance Minister, Minister of environment and water, wife of the Vice-President, and the Mayor of Entebbe Municipality.
Seven years have passed since this holy soul has passed away. Still, the legacy of the spirit imparted by this extraordinary priest keeps burning in the hearts of everyone who ever happened to meet him. His determined voice resounds from the recesses of our memory: "Love for Love! Life for Life!"
~ Abhilash Frazer ~